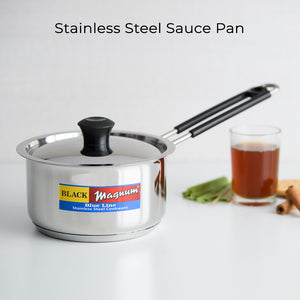 Black Magnum Stainless Steel Cookware is made to give you the benefits of cooking in a stainless steel while removing the harms of sticking and burning that comes with normal stainless steel. Our Encapsulated Bottom helps to distribute heat evenly to the pan.

Features:

Material : SS 304 Food Grade
Encapsulated Bottom: 1 Aluminium Sheet core between two stainless Steel Sheets, helps in evenly distribution of  heat.
Durable and Versatile. Great for frying, steaming, boiling, steaming, stewing and poaching.
Easy to maintain.
Non-reactive. Unlike pure copper and aluminium which react with acidic food, stainless steel is relatively inert, i.e. it does not react with food.
Withstands higher heat

 

with no issues.
Excellent value for money. Stainless steel sets are generally quite affordable but the real value lies in the durability
Warranty: 12 Months

 

against Manufacturing Defects.
Induction And Gas Stove Compatible.